After having long snowy winters, enjoying sweet sunshine comes naturally to us. The sun rays are necessary as they provide our skin the very essential Vitamin D. We love the sun and the warmth of nature, but sun rays might not be completely beneficial for us. 
The sun's rays bring heat, glare, and a general temperature rise. With global warming becoming a worldwide phenomenon, the ozone layer is getting thinner, which is resulting in Ultra Violet radiations reaching the earth. 
These Ultra Violet (UV) radiations are harmful to our skin, causing all sorts of skin diseases and skin cancers. Wrinkles, dark spots, freckles, and eye diseases are all a result of increased sun exposure.  
Besides, increased sun exposure is detrimental for your automobiles as well. The increased glare can cause your vehicle's paint to chip off. Also, the interior of your car can heat up really quickly if your car is parked for a long time in the sun. 
If the sunlight is intense, you can even get patches of fading on your vehicle. On a sunny day, if cars are left unattended without any protection, their interior can get as hot as 172°F, which is far greater than the maximum most electronics can manage. 
So, here comes Sun Shades protecting your car like Superman. So let's have a look at why sun shades are important and which ones to buy: 
Why Are Car Sun Shades Important?
Imagine the amount of frustration when you are loaded with groceries after a wholesome trip to a local store and sit inside your car parked in the lot for some time. You would not be able to even touch the steering wheel because it would be extremely hot. So, to avoid this whole fiasco, car sun shades are important. 
If you cover your car properly with side window sunshades none of this would ever happen. Your car would not heat this much to the point that you cannot touch it.  
Also, anybody sitting inside your car would not complain of the excessive heat bothering them. Your family, pets, and passengers would be safe from the harmful radiation of the sun.  
If you love traveling, car sun shades have to be your perfect traveling partner! They would keep you and your car safe while you explore new places and go for exciting adventures.  
Last but not the least, they protect your privacy! You can keep prying eyes out by using sunshades. 
What should you keep in mind before purchasing a Car Window Sun Shade?
The material of which a sunshade consists is the most important consideration. UpTree.us is one of the top providers of Car Sun Shades. The sunshades at UpTree.us are made with premium-grade polyester, integrated with a cross-stitching pattern. 
The second consideration would be the fact whether the sun shades require any magnets to get them fixed. Some sunshades require clips, adhesives, magnets which become a burden and reduce the aesthetic of your car windows.  
Thankfully, the shades available at UpTree.us do not require any such stuff. They are custom-fit sun shades that are easy to fix and install.  
Make sure the sunshade you've chosen will completely cover your side window. Because if it won't, the entire purpose of purchasing a sunshade in the first place will be nullified. 
Our Picks for Auto Sun Shades 
We have chosen the top custom-fit sun shades from UpTree.us. They are environment-friendly products and provide complete protection from UV Rays. So, here are our top picks: 
ACURA ILX 2015-2019
Acura is preferred by a number of consumers worldwide for its remarkable performance. If you are a proud owner of an Acura, you should actively look to protect it by using sunshades Acura. They come in a Set of 4 (2 front windows and 2 passenger windows). 
AUDI A3 Sedan 2015-2019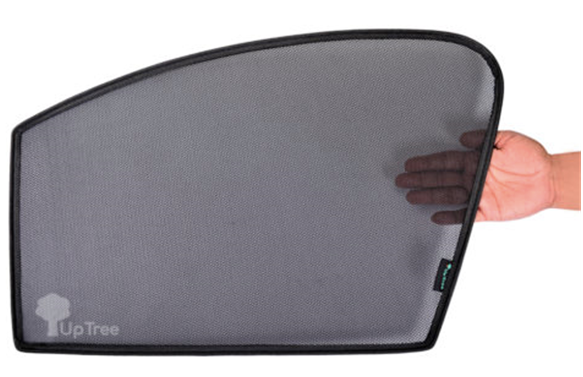 Audi comes with its perks and luxuries. If you have an Audi, you will love these auto car shades by UpTree.us for your dearest Audi. This sunshade is light in weight yet a strong option. It is specially designed to fit your Audi perfectly, without any installation issues. 
BMW 3 SERIES 2006-2018
Who doesn't dream of owning a BMW one day? If you have one in your garage, we envy you already! UpTree.us offers the best environment-friendly car sun shades for your BMW. They have the highest quality and are sure to protect your privacy wherever you go. 
BUICK ENCLAVE 2008-2017
Buick is one of the well-known car models, providing both luxury and comfort. One of the preventive measures you should take to keep your Buick safe is to install sunshades in its windows. The window sunshades available at UpTree.us will not become an obstacle while you drive and give you a perfect view of your side-view mirrors. 
FORD C-MAX 2013-2019
Having a Ford makes you stand out of the crowd. For your Ford, you'll get the best sunshades at UpTree.us, which are a great value-for-money option. They can protect your car interiors from overheating due to sun rays. 
HONDA CIVIC HATC 2017-2020
Honda Civic is a hot favorite among the public! To protect your Civic from boiling like an oven, UpTree.us presents you with top-quality custom fit sunshades at the best prices in town. Also, these sunblinds will help you prevent any sunburn while you are on the road with your Civic. 
HYUNDAI ACCENT 2012-2017
The Hyundai Motor Company, usually called Hyundai Motors is a well-known South Korean international car company and is the third biggest vehicle manufacturers in the world. UpTree.us offers custom-fit sunshades, no matter what the model of your Hyundai is. The dimensions of these sunblinds will perfectly fit your car windows. 
So, don't be frustrated the next time you sit in your parked car. Use car window sun shades by UpTree.us for the best experience. They are the best investment and will protect you and your car no matter where you go!